Spiritual Psychotherapy Group Therapy
Sharing the Courageous Journey
Spiritual Psychotherapy Group Therapy brings a multifaceted and multi-dimensional approach to inner work and emotional healing, holding the excavation and sharing of one's authentic and empowered Self in a safe and supportive group context as the guiding theme over the course of several sessions.
Embark on your journey to self-knowledge and healing with Soul Alchemist Group Therapy
Forging the Alchemical Crucible
Cycle 1: Roots and Foundations (GW); From Risk to Release (NA)
Activating the Spark of Essence Within
Exploring Family-of-Origin, Ancestral Legacy, and Personal Original Pain
Claiming the Precious Prima Materia (Creating the Values Diamond)
Cycle 2: Gifts from the Inner Child (GW); The Narcissist/Empath Spectrum (NA)
Activating the Child Within
Exploring Codependency, Emotional Fluency, and Healthy Feelings
Dissolving the Barriers to Our Needs (Building Your Personal Emotion Hive)
Cycle 3: Nurturing Empowerment and Self-Esteem (GW); New Paths to Dispute Resolution (NA)
Activating the Older Child Within
Exploring the Difference between Defences and Boundaries
Separating Self from Other (Many Paths, One Journey)
Cycle 4: Union and Partnerships (GW); Fanning Your Spark into Flame (NA)
Activating the Adolescent Within
Exploring the Impact of Core Issues
Kindling Core Meaning (Claiming the Three Fires)
Cycle 5: Shining Our Truth and Creativity (GW); From Mask to Mandala (NA)
Activating the Adult
Exploring Subpersonalities, Masks, and Inner Family Systems
Melting the Barriers to Self-Expression (Crafting the Mandala of Self)
Cycle 6: Visioning Self (GW); The Cultivation of Resilience (NA)
Activating the Older Adult Within
Exploring the Impact of Core Negative Beliefs
Distilling Positive Vision for Manifestation (The Sacred Self Vision Statement)
Cycle 7: Effects of Gratitude on Life Purpose (GW); From Wounded to Wonder (NA)
Activating the Elder Within
Exploring Life Purpose, Higher Purpose, Sacred Purpose
Claiming the Wondrous Philosopher's Stone (Drafting an Illumined Contract)
Cycle 8: Healing from Loss (GW); From Despair to Transmutation (NA)
Activating the Stillness Within
Exploring Ungrieved Losses and Wholeness
Preparing for the Sacred Return (Entering the Holiest of Holies)
Releasing the Alchemical Crucible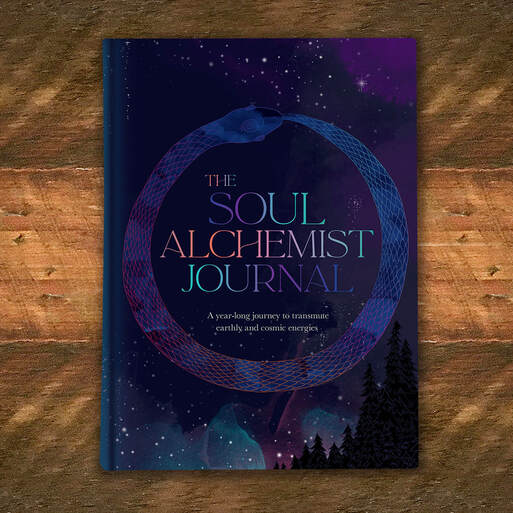 Next session starts December 14, 2023 and runs every 2 weeks until December 2024.

Cost: £1,200 which can be paid monthly in 12 instalments. Special rate of £1,000 if paid in full before first session.
Please note that the cost includes a digital version of the Soul Alchemist Journal. Arrangements can be made to purchase a physical copy, if that is preferred.
Register for the Next Session